Please see Our Mission Statement PianoDisc is the world's leading manufacturer of player piano systems, with a dealer network that literally spans the globe. The company was founded in 1988, and in very short order became one of the most successful, innovative and influential companies in the music products industry. PianoDisc began in a modest-sized piano retail store in Sacramento, California, which was owned by brothers Gary & Kirk Burgett. In 1979, the two had decided to start a business together that would take advantage of each one's talents and interests. Gary was a pianist and music teacher with a successful studio of his own, and Kirk was a skilled piano technician and rebuilder. The company they founded was called Burgett Pianos, and through a combination of hard work and marketing savvy they rapidly took annual sales from 50 pianos to over 400.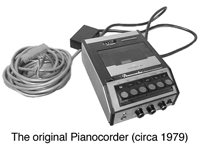 One important selling tool for the brothers was a product called Pianocorder, a cassette-driven player system that could be added to any piano. The Burgetts let Pianocorder demonstrate their pianos in malls, department stores, model homes and a host of other offsite locations, and it drew fascinated customers—people who didn't play the piano and never would have thought of buying one—into their store. Pianocorder sales eventually made up close to 40% of Burgett Pianos' business, so the brothers were alarmed when, in 1988, Yamaha (the Japanese piano manufacturer), bought the rights to Pianocorder and promptly took it off the market. Yamaha planned to come out with its own player system and wanted to eliminate its competition beforehand.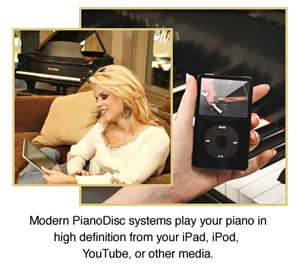 Since the Burgetts were not Yamaha dealers, they suddenly had no player system to sell and stood to lose 40% of their sales. In the true entrepreneurial spirit, the Burgetts saw this not as a catastrophe but as an opportunity. They knew they were not alone—there were thousands of piano dealers with no product to sell—so they decided to meet the demand by making their own system, which they called PianoDisc. They produced their first system in March of 1989 and over the years many generations of PianoDisc player systems have been introduced, each one expanding the capabilities and features of the last. To support a product as sophisticated as PianoDisc, a music library was needed that was just as sophisticated, so the company began recording some of the world's finest pianists. Over the years, more than 4000 songs in every category of music have been recorded for PianoDisc and its library is still growing. Today, PianoDisc systems are in private homes, hotels, restaurants, music schools, recording studios and a host of other places, bringing the joy of live music to anyone who hears them. The company has over 600 dealers and distributors in 40 countries around the world. Wherever it's shown everyone agrees: PianoDisc is one of the most exciting music products to come along in decades, and an important component in modern home entertainment. Find out more about the PianoDisc iQ system in this brochure.