Find out more about the PianoDisc iQ system in this brochure.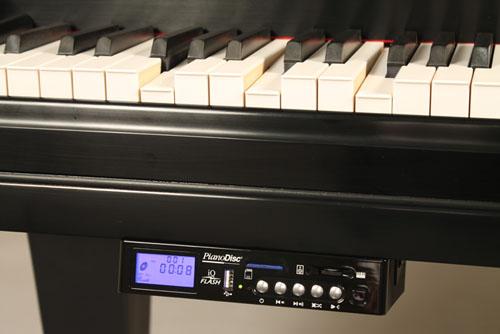 iQ Flash offers ease of operation, wireless connection and playback options… PianoDisc introduces its new iQ Flash front-end, a modern, flexible MP3 player system specifically designed for use with PianoDisc's iQ piano player technology. Features include 1,024 levels of dynamic expression playback per note, built-in SD Card and USB slots, wireless connection and One Touch Record and playback options.
FEATURES
MP3 files from USB, SD or MMC flash memory
Record your own performances (with optional Performance Package)
Integrated balance control for just the right mix of piano and accompaniment
1,024 levels of Playback Dynamic Expression per note
Repeat and Shuffle features let you choose how to listen to your music
Easy to read high-contrast backlit LCD display
Wireless remote control
Wireless audio option
SPECIFICATIONS
Power 5 VDC, 1A
Display 1.75″ (44mm) blue LED backlit
Line-in stereo RCA
Line-out stereo RCA
Media types: USB Flash, SD/MMC Flash
File format: MP3 (256 kbps recommended)
Remote control IR credit-card style
If you have any questions or need assistance, please fill out the form below or call us at (916) 567-9999.