The new and improved Android and iOS iQ Player App comes with hundreds of songs in every genre, and gives you more precise control of playback and better performance than ever before.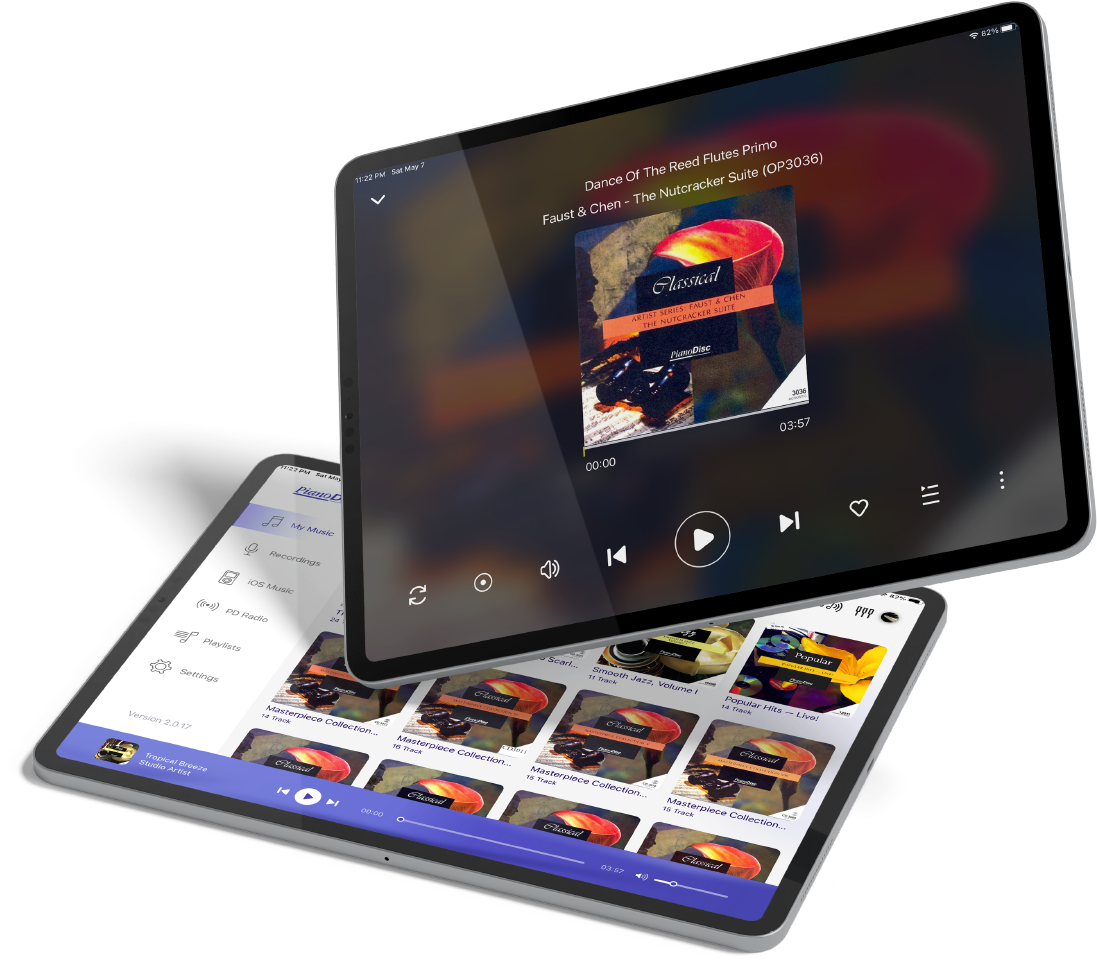 Please note that due to the diversity of Android devices and OS versions, some Android devices may not be compatible with the PianoDisc iQ App. Unfortunately, it is not possible to determine whether or not your device is compatible.
The vast majority of our customers use iOS devices due to their better MIDI support and much greater availability of third-party music apps. Thus, our development focus is first and foremost on iOS. While we provide an Android app as a convenience for our customers, the Android version of the iQ App doesn't have all of the features of its iOS counterpart.
For the best, most up-to-date experience, we recommend a dedicated iPad to complement your PianoDisc Prodigy system.
THIS SOFTWARE IS PROVIDED BY THE COPYRIGHT HOLDERS AND CONTRIBUTORS "AS IS" AND ANY EXPRESS OR IMPLIED WARRANTIES, INCLUDING, BUT NOT LIMITED TO, THE IMPLIED WARRANTIES OF MERCHANTABILITY AND FITNESS FOR A PARTICULAR PURPOSE ARE DISCLAIMED. IN NO EVENT SHALL THE COPYRIGHT OWNER OR CONTRIBUTORS BE LIABLE FOR ANY DIRECT, INDIRECT, INCIDENTAL, SPECIAL, EXEMPLARY, OR CONSEQUENTIAL DAMAGES (INCLUDING, BUT NOT LIMITED TO, PROCUREMENT OF SUBSTITUTE GOODS OR SERVICES; LOSS OF USE, DATA, OR PROFITS; OR BUSINESS INTERRUPTION) HOWEVER CAUSED AND ON ANY THEORY OF LIABILITY, WHETHER IN CONTRACT, STRICT LIABILITY, OR TORT (INCLUDING NEGLIGENCE OR OTHERWISE) ARISING IN ANY WAY OUT OF THE USE OF THIS SOFTWARE, EVEN IF ADVISED OF THE POSSIBILITY OF SUCH DAMAGE.
If you experience any problems with this app, PianoDisc technical support would be happy to work with you to try to solve the problem. You can reach us at +1 916-567-9999.
Android App Installation Instructions
Please note that while these instructions are written for Amazon Fire HD Tablets, these steps will be applicable to most Android devices.
Step 1 – Swipe down from the top of the screen and press the Settings icon to launch the Settings app.
Step 2 – Scroll down and select Security & Privacy.
Step 3 – Turn on Apps from Unknown Sources and press Ok if you see a popup.
Step 4 – Use your Amazon Fire HD Tablet to navigate to this page and select this link to download the iQ Player App.
Step 5 – After the app has finished downloading onto your tablet, open the Docs app, select the Local Storage tab, and open the Download folder.
Step 6 – Select the file that was just downloaded and press Install and the iQ Player App will begin installing. Open it and press Allow on the popup.
Hours:
Monday – Friday
4:00am – 7:00pm PST
Saturday
8:00am – 4:00pm PST
We'd love to hear from you! To request more information, please use the contact form below.